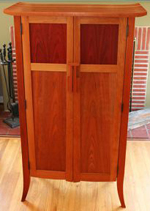 I have posted a gallery of woodworking projects. Click to view.
Designing and working with wood has become a focus of my creative endeavors. A number of photo galleries may be found in the Woodoworking galleries.

A few years ago, writing, with an emphasis on travel, events and dining, became a major part of Tom's activities. To read of the people, places and activities visit the Tom's Travelogue page.
Travel captivates our imagination, expands our consciousness
and enriches the connections which make life a grand adventure.
Whether your travels take you to far-off, exotic lands or just around the next bend may you cherish the moments and share your joy.
Tom

Recent Articles
Tortuga Bay Hotel, Dominican Republic
San Antonio, New World Wine & Food Festival
Cancun, Merida on the Yucatan Peninsula
Wit's End Guest Ranch, Resort & Spa
Colony Beach and Tennis Resort, Sarasota, Florida